Welcome to Anna Liza Wiki
An encyclopedic guide to the philippine soap opera Anna Liza that anyone can edit.
There are currently 73 articles on the site, please keep in mind that this site is full of SPOILERS.
If you see some mistakes in these pages, you are free to edit them.
A Legacy Spanning more than 30 Years
Anna Liza, the first prime time soap opera, originally aired from Sunday to Friday on the GMA network, from 1980 - 1986. The series was created by Ray Benedicto and Raynee Salgado. Before it became a tv series, it is first a radio drama in Cebu during the seventies. It become a television series and it is directed by Gil Soriano. The series become a major hit in the philippines and it beats the rating of Flordeluna. The series ended with an incomplete storyline in 1986 because of Julie Vega's sudden death.
Featured Character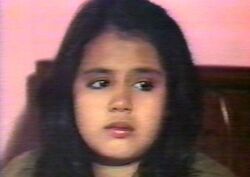 Anna Liza Santiago is the main protagonist of the 1980 soap opera Anna Liza
Featured Poll
What can you say about the remake?
Ad blocker interference detected!
Wikia is a free-to-use site that makes money from advertising. We have a modified experience for viewers using ad blockers

Wikia is not accessible if you've made further modifications. Remove the custom ad blocker rule(s) and the page will load as expected.